Thursday August 16th, 2001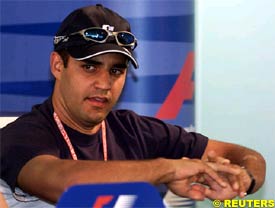 Ralf Schumacher hopes to finish the Formula One season as runner-up to brother Michael, but his teammate Juan Pablo Montoya is not about to help him.
"Not at this point," the Williams rookie told a Hungarian Grand Prix news conference Thursday, directing barely a glance at his colleague sitting alongside.
"At the end of the day, he's not going to win the championship so we're scoring points for the constructors' championship," said Montoya, who has never pretended to be great friends with the German and certainly delights in beating him. For that it doesn't matter if he finishes ahead or behind me. Sure, if the order is given by the team to let him by, I would."
Ralf is currently third in line for the championship his Ferrari-driving brother could win this weekend, and looks poised to steal second from McLaren's David Coulthard by the end of the season. While Hungary may not suit Williams, the next two races at Spa and Monza are ideal high-speed tracks for the car.
"It looks pretty good but we still have five races to go and this circuit I consider to be a bit better for McLaren but we'll see," said the German, who has a contract with Williams until 2004.
Rapid progress
Ralf has won three Grands Prix this year, one more than Coulthard, while Montoya, in his first season after taking the CART title in 1999, has twice finished second after leading races repeatedly.
The Colombian has progressed rapidly in the second half of the season, securing a pole in the last race at Hockenheim. He also led that race by a good distance until a fuel rig problem led to a lengthy pit stop and the ultimate overheating of his car's BMW engine.
Ralf suggested after Hockenheim he had conserved his engine while Montoya had driven his too hard and paid the price. But technical director Patrick Head was subsequently quoted as saying Montoya had simply been driving faster than Ralf without endangering the engine. Ralf said he was misquoted.
"I've never said that he is responsible that the engine failed," Schumacher said. "At the end of the day, if the engine doesn't survive then something's wrong with it."
Montoya agreed with that assessment.
"I didn't have a problem with the engine," he said. "I think the only thing that happened was the pit stop was so long that the engine overheated and that was it. There's nothing you can do about it. You're driving within the limits of the engine, you can't really over-rev the engine or do anything to it with all the electronics and everything so you just drive it to the limit."
Published at 15:33:51 GMT
---