Thursday August 16th, 2001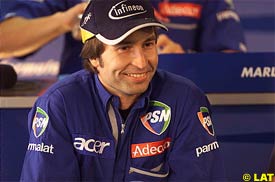 German Heinz-Harald Frentzen has admitted that he thought he had a watertight deal with Jordan, and said that perhaps the FIA's Contract Recognition Board should get involved in his court case.
The Contract Recognition Board is already in place to help prevent the poaching of drivers in Formula One.
Frentzen is taking court action against the Silverstone-based team over his dismissal, which he claimed was made by fax, after he admitted that he believed his contract with Jordan was strong.
"I think I have a good contract - or had a good contract - at Jordan," Frentzen said. "We'll see. Certainly there is some point in that (getting the Contract Recognition Board involved). The contract is quite clear, one side and the other side, so the facts are there.
"It has been terminated and obviously there is some discussion behind it, which will be decided in court. A contract is there to help a relationship."
Frentzen, who was sacked only four days before his home Grand Prix in Germany, will begin his new role with Prost at this weekend's Hungarian Grand Prix at the Hungaroring.
Published at 16:15:19 GMT
---