Thursday August 16th, 2001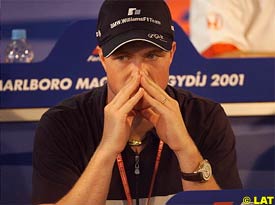 German Grand Prix winner Ralf Schumacher is not expecting his Williams team to be competitive enough to fight for another victory at this weekend's Hungarian Grand Prix.
The German driver, winner of three races so far this year, took a dominant win at the fast Hockenheim circuit three weeks ago but at the tight and slow Hungaroring Schumacher only hopes the Williams is not too far off the pace of the Ferraris, who he considers are the favourites to win.
"This is a different circuit for us, it's very tight, you need a lot of downforce here," Schumacher said today. "You need mechanical grip and we have struggled to deliver that. I don't know how the new car with the Michelin tyres will work here or whether the tyres will give us an advantage over Bridgestone.
"Hopefully it will not be too far off but we will see. From what I have heard Ferrari have made a special aero package for here and they're really going for it. The last two years they were pretty strong here so I think they're the team to beat."
Ralf is currently lying third in the Drivers' Championship, six points behind McLaren rival David Coulthard.
Published at 17:11:45 GMT
---