Thursday August 16th, 2001
By Alan Baldwin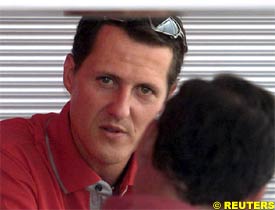 Michael Schumacher, possibly only days away from a fourth Formula One world title, has refused to be swept away by premature celebrations.
Surrounded by sweating reporters squeezed into the Ferrari motorhome on a hot afternoon at the Hungaroring, the German driver stayed cool.
"Aren't you excited by this opportunity to be maybe the four times World Champion?" asked a questioner. "Certainly. But I am not (a four times champion). So how can I be excited right now if I am not," he replied calmly, looking relaxed after a three-week holiday in Switzerland with his family.
"Only when it is in my pocket will I be able to celebrate."
The German made clear that he was out to win Sunday's Hungarian Grand Prix, a seventh triumph of the year that would put the title out of everyone else's reach with four races to spare. It would also equal French four times champion Alain Prost's record of 51 career victories.
But, while again expressing his pride at being part of a Ferrari era of domination that has seen him win 10 of the last 16 races, Schumacher played down his achievements to date.
"I'm a human being and that's it. I have the ability to race a little bit faster than others," said Schumacher, who is 37 points clear of nearest rival David Coulthard.
No Worries
Schumacher has won twice before at the Hungaroring but he failed to finish his home Grand Prix last month after a fuel pump problem on his Ferrari. He said he was confident that problem would not recur and was not concerned by the events at Hockenheim, where he was also involved in a major crash at the start.
"What happened in Hockenheim with the fuel pump in the middle of the race, that's nothing for me," he declared. "To have a retirement or two in a year is pretty normal. I'm not concerned for here."
Schumacher also laughingly brushed aside comments made by Coulthard's McLaren boss Ron Dennis in an interview published in the latest British edition of F1 Racing magazine.
"I'm not against Michael. But I wonder whether the view that he's the best is so widespread that it militates against his misdeeds being punished with the same severity as others' would," Dennis had said. "Ayrton [Senna] was afforded the same latitude. I don't support such inequality but I understand it."
Schumacher smiled when asked for his reaction.
"Well, I mean, I don't think I need to comment on that honestly because Ron is Ron," he said. "We know how Ron is. Probably that's the best answer I could give."
Published at 17:24:01 GMT
---