Friday August 17th, 2001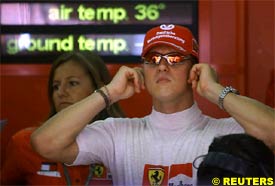 Championship leader Michael Schumacher moved a step closer to a fourth world title after an impressive performance in Friday's free practice resulted in a Ferrari one-two.
Schumacher improved his time by more than three tenths of a second in the second session to head off teammate Rubens Barrichello's challenge as he goes in search of a record-equalling 51st career win, which will hand him the Championship.
Mika Hakkinen showed that McLaren are not yet out of the hunt by claiming third fastest time just 0.317 seconds behind Schumacher, but his teammate David Coulthard did not make it out in the second session, after damaging his car in the first, and ended tenth.
Despite concerns that his car would not be suited to the twisty circuit, Ralf Schumacher put his Williams up to fourth fastest, but he was some 0.657 seconds slower than his brother Michael's best lap. Just six minutes into the spin-filled session, Juan Pablo Montoya became the first man to have an off when his Williams spun in a cloud of smoke at turn 11, flat-spotting the tyres in the process.
Luciano Burti then spun his Prost and, at turn five, just three minutes after Montoya's spin, the Williams driver's teammate Ralf Schumacher spun into the gravel for the second time in consecutive sessions. Once again, however, he recovered from his spin, this time at turn five, and Nick Heidfeld in the Sauber also recovered from an off at turn 13.
Moments later, at turn two, Tarso Marques had his fourth spin of the day in the Minardi as he continued to struggle to cope with the twisty circuit. Heinz-Harald Frentzen then spun at turn 12. But unlike Coulthard earlier, he was lucky not to go over the kerbs, kept his car intact, and continued on his way.
Michael Schumacher pushed too hard into turn six and slid wide, and Giancarlo Fisichella had a spin after doing much the same thing two minutes later. Pedro de la Rosa had a spin at turn 13 half way through the session, both Fernando Alonso in the Minardi and Luciano Burti in the Prost also had problems in the same turn.
Marques signed off his disastrous day with a fifth off, this time destroying his diffuser before Montoya and Barrichello took the 'off' count to fourteen with minutes to go.
Eddie Irvine claimed fifth fastest time for Jaguar, while Jean Alesi fared better than he had in the first session, and put in a late run to claim sixth fastest time in his new Jordan car, 0.415 seconds faster than new teammate Jarno Trulli.
Frentzen, the man Alesi replaced, also preformed well, putting his Prost up into 14th place, and some 1.891 seconds ahead of his new teammate Luciano Burti.
Pos  Driver        Team                    Times                 
 1.  M.Schumacher  Ferrari            (B)  1:16.651  186.690 km/h
 2.  Barrichello   Ferrari            (B)  1:16.734    +    0.083
 3.  Hakkinen      Mclaren Mercedes   (B)  1:16.789    +    0.138
 4.  R.Schumacher  Williams BMW       (M)  1:17.308    +    0.657
 5.  Irvine        Jaguar Cosworth    (M)  1:17.409    +    0.758
 6.  Alesi         Jordan Honda       (B)  1:17.862    +    1.211
 7.  Fisichella    Benetton Renault   (M)  1:17.896    +    1.245
 8.  Heidfeld      Sauber Petronas    (B)  1:17.928    +    1.277
 9.  Panis         BAR Honda          (B)  1:17.970    +    1.319
10.  Coulthard     Mclaren Mercedes   (B)  1:18.182    +    1.531
11.  de la Rosa    Jaguar Cosworth    (M)  1:18.195    +    1.544
12.  Trulli        Jordan Honda       (B)  1:18.277    +    1.626
13.  Montoya       Williams BMW       (M)  1:18.524    +    1.873
14.  Frentzen      Prost Acer         (M)  1:18.724    +    2.073
15.  Raikkonen     Sauber Petronas    (B)  1:18.834    +    2.183
16.  Villeneuve    BAR Honda          (B)  1:19.238    +    2.587
17.  Button        Benetton Renault   (M)  1:19.263    +    2.612
18.  Verstappen    Arrows Asiatech    (B)  1:19.368    +    2.717
19.  Bernoldi      Arrows Asiatech    (B)  1:19.466    +    2.815
20.  Alonso        Minardi European   (M)  1:19.992    +    3.341
21.  Burti         Prost Acer         (M)  1:20.615    +    3.964
22.  Marques       Minardi European   (M)  1:20.981    +    4.330

All Timing Unofficial

Published at 12:02:45 GMT
---