Friday August 17th, 2001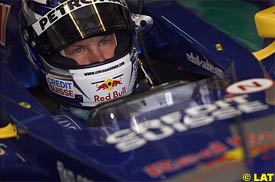 Young Finn Kimi Raikkonen remained calm after Friday's practice session for the Hungarian Grand Prix despite only setting the 15th time of the day at the wheel of the Sauber.
"It looks worse for me today than it actually was," claimed Raikkonen, who has scored nine points this season. ""The track was dirty this morning so we decided to experiment and try a few things, with the intention of doing more intensive set-up work when the track had cleaned up this afternoon."
Raikkonen, visiting the Hungaroring for the first time in his Formula One career, suffered a suspension problem which forced him to miss most of the afternoon session. However, despite his problems, the Sauber driver was confident of improving things on Saturday.
"Today the balance of my car varied between understeer in the high-speed corners and oversteer in the medium, but we have good data to help us for tomorrow," he added.
Teammate Nick Heidfeld was the fastest of the Ferrari-powered C20s, the German starting his weekend in a promising way by setting the eighth quickest time of the session.
"I'm quite happy and satisfied with the way things went today, especially as some of the cars ahead of me may have been on low fuel loads," said Heidfeld after today's session. "I had a couple of spins due to entry oversteer, but we honed the set-up and the car felt good."
Published at 13:09:57 GMT
---