Friday August 17th, 2001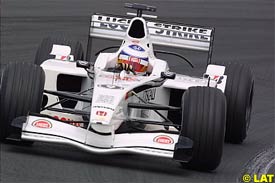 The British American Racing drivers suffered a day of mixed fortunes in Friday's practice for the Hungarian Grand Prix, with Frenchman Olivier Panis setting the ninth fastest time while teammate Jacques Villeneuve struggled with his car to finish 16th.
Panis, who last scored points for the Brackley-based team back in May at the Austrian Grand Prix, had a positive day and was confident of improving even more in tomorrow's qualifying.
"I'm feeling quite positive after today," said Panis. "We found the right set-up and we seem to be heading in the right direction. We did a lot of work in between the two sessions today and that helped us to keep hold of 9th position.
"I'm sure we can continue to improve tonight and in practice tomorrow so I'm feeling quite confident about qualifying."
Canadian Villeneuve was not as lucky as his teammate, the 1997 World Champion struggling with the set-up of his Honda-powered car. Villeneuve, who finished in the podium three weeks ago at the German Grand Prix, vowed to keep on working to move up the field.
"We got a little lost with the set-up so we're not where we'd like to be this afternoon," said Villeneuve. "I suffered with some oversteer and we were unable to find a solution yet. We still have some work to do but it's nothing we can't improve on tonight and in tomorrow's session."
Published at 16:16:54 GMT
---