Friday August 17th, 2001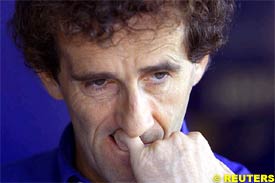 Team boss Alain Prost has admitted his team are struggling financially, but at the same time he slammed suggestions that Jean Alesi quit the French team because he was not paid for six months.
Prost was also alleged to have failed to keep up with payments for the team's supply of Ferrari engines but despite admitting that the Guyancourt-based team do have financial problems, he refuted the late payment claims.
"There is a lot of things written in the press where I am more than upset at the moment - for example that we did not pay the engines, or we did not pay Jean Alesi for the last six months," Prost said. "Everybody can come to the factory and look at the books.
"We have paid the engine already from last year, so we do not owe one dollar to Ferrari and it is easy to see how we have paid with our agreement with Jean Alesi. I cannot accept that any more.
"We have always been honest that we have some problems, and it is not easy. I hope I can have a very positive answer very soon. I have not had one day's holiday, I have been working very hard for that."
But he tried to sound upbeat about the future, hinting at future announcements and developments about the team's direction.
"It is going to be soon where I am going to tell people, OK, that's the program, that's the situation, that's the future," he said. "That is my only answer about engines or drivers or sponsors or whatever. I hope I can have a very, very positive answer very soon."
Prost now have no French sponsors, no French driver and an Italian engine, a potentially difficult situation for a nominally French team.
"Depending on what I am going to announce in a few weeks' time, we are an European team," Prost said. "Maybe more than that in the future. It is not the most important thing. The most important is to have a strong team."
Prost confirmed the team was currently 40 percent owned by Brazilian Pedro Diniz and his father Abilio, who have been rumoured to be interested in increasing their stake.
"I don't care too much about the majority," Prost said. "What I mind is really all the effort and all the people involved ... going in the same direction to have the best team possible. It is not my main objective to be the main shareholder."
Prost said the team had plenty of time to negotiate with Ferrari and an engine agreement was already 95 percent completed.
"We have very good relations with them and no problem. We know what we are doing together and there is absolutely no problem."
Prost did admit that he was two weeks late with payment of Alesi's salary and said that as soon as he knew the French driver wanted to leave he did not stand in his way.
"We were two weeks late on the payment, so because he wanted to leave I decided that as we had the possibility to get Heinz-Harald then it was better to leave him free because I did not want to have any more problems," he said.
"I called his manager immediately after Hockenheim because I had to know if it was a possibility."
Published at 16:34:55 GMT
---