Friday August 17th, 2001
By Alan Baldwin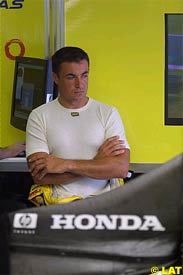 French veteran Jean Alesi credited Eddie Jordan on Friday with rescuing his Formula One career when he thought it was over.
The 37-year old, about to start his 196th Grand Prix and first for Jordan in Hungary on Sunday, said he decided to quit the Prost team this month after receiving a letter from boss Alain Prost. Prost, who told reporters later that his team had been two weeks behind with Alesi's salary but dismissed media reports of a longer period, suggested the Frenchman's mind was made up already.
Alesi, now replaced at Prost by Jordan's sacked German Heinz-Harald Frentzen, did not discuss the contents of the letter but said it contained "some things I did not like.
"I spoke with my brother because - although I'm very happy because I'm driving for Eddie - at the time I was really down and I understood my career in Formula One was finished," he said. "I had no feeling to work anymore with this kind of relationship."
Letter
Prost confirmed he had sent a letter and added it was "for a good reason. I do my job in this case and that's it. I'm sure it's not the first one he has received in his career. Normally it should not be a problem. If you do not want to make a problem around that. We were two weeks late on the (wage) payment," Prost confirmed.
"So because he wanted to leave I decided that, as we had the possibility to get Heinz-Harald, it was better to leave him free because I didn't want to have any more problems."
Alesi's first competitive run for Jordan reflected the ups and downs of his character, starting with a skid off into the gravel after four laps and then ending the afternoon an impressive sixth fastest.
"I finished the session very well, tomorrow will probably be a lot easier for me now I've started with Eddie and I want to do a good job," he said. He also provided a moment of humour when he drove past the Jordan garages as he came into the pits and headed for the Prost end of the row.
"I'm so happy to be driving for Eddie," he said. "Obviously too excited because this morning I went off but I was enjoying too much my first laps. The biggest problem I had this morning was to stop the car on the correct place because I went at the end of the pits," he added.
Alesi's former teammate Luciano Burti suggested in his news conference on Thursday that the Frenchman might find the Jordan, with it's different pedal arrangement, not entirely to his taste. But the Frenchman said that had not been the case.
"It is difficult when you drive with a difficult car but when you drive with a good support and a good car it is easier anyway," he said.
Published at 17:53:22 GMT
---