Saturday August 18th, 2001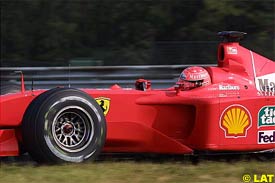 Michael Schumacher continued to dominate at the Hungaroring as he clocked the fastest time of the weekend in Saturday's first practice session ahead of Saturday's qualifying session.
And it was a good start for Ferrari all-round as team-mate Rubens Barrichello was second fastest, with the McLarens of Mika Hakkinen and David Coulthard third and fourth respectively.
Nick Heidfeld was again impressive as he took fifth for Sauber, but his team-mate Kimi Raikkonen was troubled when marshals had to extinguish flames licking up from the hot exhaust section of his car midway through the session.
That was virtually the only incident of the hot and humid 45-minutes, as most of the teams escaped trouble while they continued to prepare for the important qualifying session.
Ralf Schumacher continued to place Williams at the sharp end with fifth fastest time, and Olivier Panis of British American Racing headed Jarno Trulli's Jordan in the battle of the Honda-powered cars.
After his spectacular sixth place in Friday's practice sessions, Jean Alesi found himself further down the field on Saturday morning as he could manage only 13th fastest time.
Pos  Driver        Team                    Times                 
 1.  M.Schumacher  Ferrari            (B)  1:15.466  189.622 km/h
 2.  Barrichello   Ferrari            (B)  1:15.730    +    0.264
 3.  Hakkinen      Mclaren Mercedes   (B)  1:15.839    +    0.373
 4.  Coulthard     Mclaren Mercedes   (B)  1:16.204    +    0.738
 5.  Heidfeld      Sauber Petronas    (B)  1:16.755    +    1.289
 6.  R.Schumacher  Williams BMW       (M)  1:16.784    +    1.318
 7.  Panis         BAR Honda          (B)  1:16.941    +    1.475
 8.  Trulli        Jordan Honda       (B)  1:17.106    +    1.640
 9.  Montoya       Williams BMW       (M)  1:17.191    +    1.725
10.  Raikkonen     Sauber Petronas    (B)  1:17.293    +    1.827
11.  de la Rosa    Jaguar Cosworth    (M)  1:17.549    +    2.083
12.  Fisichella    Benetton Renault   (M)  1:17.551    +    2.085
13.  Alesi         Jordan Honda       (B)  1:17.726    +    2.260
14.  Villeneuve    BAR Honda          (B)  1:17.837    +    2.371
15.  Irvine        Jaguar Cosworth    (M)  1:17.975    +    2.509
16.  Button        Benetton Renault   (M)  1:18.532    +    3.066
17.  Frentzen      Prost Acer         (M)  1:18.786    +    3.320
18.  Verstappen    Arrows Asiatech    (B)  1:18.954    +    3.488
19.  Bernoldi      Arrows Asiatech    (B)  1:19.281    +    3.815
20.  Alonso        Minardi European   (M)  1:20.324    +    4.858
21.  Burti         Prost Acer         (M)  1:20.617    +    5.151
22.  Marques       Minardi European   (M)  1:21.627    +    6.161

All Timing Unofficial

Published at 07:48:36 GMT
---