Saturday August 18th, 2001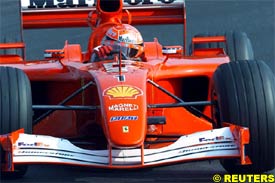 Michael Schumacher cruised to the fastest-ever pole position at the Hungaroring as he left all others in his wake with a dominant time eight tenths of a second ahead of his closest rival David Coulthard.
With two of a potential four runs gone, Schumacher simply sat calmly in his Ferrari watching his rivals' vain attempts to beat his time of 1:14.059. No-one could, and the German, for whom it was a 41st career pole, completed just six laps to set his time, which was three and a half seconds faster than last year's pole position time.
Schumacher could clinch a fourth world title if he scores at least three points more than rival Coulthard, but the McLaren man ensured Schumacher will still have a fight on his hands by claiming a front row place alongside him. Ferrari's Rubens Barrichello was third with Michael's brother Ralf Schumacher fourth in the Williams and Jarno Trulli netting fifth for Jordan.
With temperatures touching 30 degrees Celsius, the session got off to a slow start and it was not until the 29th minute that Schumacher showed his hand. With Hakkinen sitting on a one minute and 15.411 seconds lap, Ferrari's Schumacher took things to an all-new level by dropping the time below the one minute and 15 seconds bracket.
But just to underline his dominance, with 20 minutes to go he smoothly scorched to set his stunning and clearly unbeatable time just outside the one minute and 13 seconds level. Coulthard put his McLaren up to second, but he could get nowhere close to the near-perfect Schumacher, who claimed the fastest split time in every sector of the lap.
Schumacher's first sector time was 0.2 seconds faster than any other driver could manage, and he took a further 0.4 seconds out of Coulthard in the second part of the lap. Juan Pablo Montoya had an off at turn two as he pushed to improve his eighth place on the grid, and Olivier Panis stopped just seconds before the end of the session.
Jean Alesi will start his first race for Jordan from 12th place on the grid after struggling with a skittish car, and Heinz-Harald Frentzen claimed 16th fastest time for Prost, almost a whole second faster than his new teammate Luciano Burti.
Pos  Driver        Team                    Times                 
 1.  M.Schumacher  Ferrari            (B)  1:14.059  193.224 km/h
 2.  Coulthard     Mclaren Mercedes   (B)  1:14.860    +    0.801
 3.  Barrichello   Ferrari            (B)  1:14.953    +    0.894
 4.  R.Schumacher  Williams BMW       (M)  1:15.095    +    1.036
 5.  Trulli        Jordan Honda       (B)  1:15.394    +    1.335
 6.  Hakkinen      Mclaren Mercedes   (B)  1:15.411    +    1.352
 7.  Heidfeld      Sauber Petronas    (B)  1:15.739    +    1.680
 8.  Montoya       Williams BMW       (M)  1:15.881    +    1.822
 9.  Raikkonen     Sauber Petronas    (B)  1:15.906    +    1.847
10.  Villeneuve    BAR Honda          (B)  1:16.212    +    2.153
11.  Panis         BAR Honda          (B)  1:16.382    +    2.323
12.  Alesi         Jordan Honda       (B)  1:16.471    +    2.412
13.  de la Rosa    Jaguar Cosworth    (M)  1:16.543    +    2.484
14.  Irvine        Jaguar Cosworth    (M)  1:16.607    +    2.548
15.  Fisichella    Benetton Renault   (M)  1:16.632    +    2.573
16.  Frentzen      Prost Acer         (M)  1:17.196    +    3.137
17.  Button        Benetton Renault   (M)  1:17.535    +    3.476
18.  Alonso        Minardi European   (M)  1:17.624    +    3.565
19.  Burti         Prost Acer         (M)  1:18.238    +    4.179
20.  Bernoldi      Arrows Asiatech    (B)  1:18.258    +    4.199
21.  Verstappen    Arrows Asiatech    (B)  1:18.389    +    4.330
22.  Marques       Minardi European   (M)  1:19.139    +    5.080

All Timing Unofficial

Published at 12:02:52 GMT
---