Saturday August 18th, 2001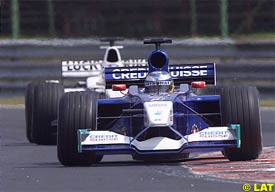 German Nick Heidfeld put another brilliant performance on Saturday to qualify in seventh place for the Hungarian Grand Prix, but the Sauber driver admitted he was not completely satisfied with his session.
Heidfeld, who posted an impressive fourth quickest time in this morning's practice, was unable to take advantage of his four allocated runs at the Hungaroring due to errors in two of them. However, the German completed a promising day for the Swiss team to place himself in a good position to score points in Sunday's race.
"I had to abort two runs today after making small mistakes," admitted Heidfeld. "On one I just managed to catch the car after getting a wheel over a kerb, on the other I ran wide in a corner because the track was still dirty.
"But the car felt every bit as strong as it did this morning when we were fourth fastest; I just think that some others improved their cars this afternoon. It wasn't a perfect qualifying session for me, but seventh is a good place to start here and we have a good race set-up."
Teammate Kimi Raikkonen was ninth quickest in his first visit to the Hungarian track, the Finn admitting the set-up of his Ferrari-powered C20 was less than perfect.
"To begin with my car felt good this afternoon, but then it began to understeer on the last two runs so I did not improve my lap time," said Raikkonen. "I set my fastest time on my second run, when I lost at least two tenths of a second when I came across one Jordan at the start and the other one near the end.
"It didn't help that I lost time yesterday and again this morning with a small corner weight problem, but though the set-up of my car wasn't perfect today it was a lot better than yesterday."
Published at 12:59:23 GMT
---