Saturday August 18th, 2001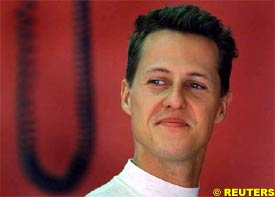 Ferrari's Michael Schumacher put himself on pole position for a record-equalling win and a fourth Formula One Championship in Hungary with what the German driver claimed was a perfect lap around the Hungaroring circuit.
The German obliterated previous lap times at the Hungaroring with a qualifying time of 1:14.059 with some 20 minutes remaining in the session. It was his ninth pole in 13 races this year, the 41st of his career, and the fastest recorded in Hungary since the first Grand Prix here in 1986.
Schumacher's time was nearly three and a half seconds faster than his pole of 1:17.514 last year and a massive 0.801 quicker than his main rival David Coulthard. Coulthard, 37 points behind Schumacher in the Championship with 50 remaining to be won including Sunday's race, split the Ferraris to join Schumacher on the front row.
"My car was perfect and I had a perfect lap," said Schumacher, who only completed six laps today. "After such a perfect lap I knew I could not go any faster so there was no point wasting the effort. It will probably be a lot closer in the race."
Rubens Barrichello was third quickest for the Italian team, the Brazilian unable to match his teammate's pace and finishing 0.894 seconds behind Schumacher. Barrichello claimed after the session that he was not happy with the balance of his car.
"The car was good in the morning, but after setting my time the balance went away for the last two runs," Barrichello said. "I had too much understeer and could not improve, perhaps because the track got a bit dirtier or lost a bit of grip."
Published at 13:55:10 GMT
---