Saturday August 18th, 2001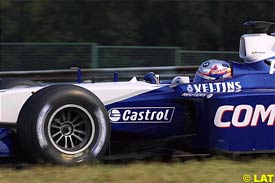 Juan Pablo Montoya voiced his discontent with the performance of his Williams car in qualifying for the Hungarian Grand Prix after a disappointing day.
Colombian Montoya will line up eighth on the grid at the Hungaroring as he battled with his car in Saturday's qualifying session. His teammate Ralf Schumacher, who was nearly a second quicker than him, is fourth on the grid.
"There is a point where the car goes to and won't go any quicker," said Montoya. "We try one thing and it makes it have big understeer so we cure the understeer and then I can't turn in.
"It is quite difficult to drive and I am a bit disappointed. It was a difficult day but we have to now try and find out what are the problems with the car."
Schumacher, meanwhile, was happy with what he believed to be the best possible result for him and the team.
"I think I can be satisfied with the second row of the grid," said Schumacher, who was outqualified by only the two Ferraris and David Coulthard's McLaren.
"The gap to the best time is quite large," he continued. "But I am confident we will be strong in the race, as we have been in recent Grands Prix. I am hoping for a good start so I can improve on this position in the race."
Published at 14:07:46 GMT
---