Saturday August 18th, 2001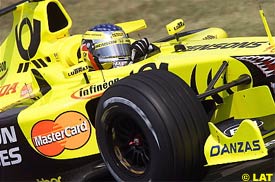 Frenchman Jean Alesi admitted after today's qualifying session for the Hungarian Grand Prix that he was relieved to have avoided embarrassment thanks to a last minute effort that saw him move to twelfth place on the grid for tomorrow's race.
Alesi, racing for the Jordan team for the first time following his departure from Prost after the German Grand Prix, was unable to match his teammate Jarno Trulli's pace during the session, the veteran driver claiming he is still adapting to his new team.
However, the 37-year old was glad to move up the grid with his final run, but said he was expecting a very tough race on Sunday.
"It was really embarrassing in the middle of the session to be 15th or 16th, so I'm a bit happier with my last lap," said Alesi. "I'm 12th - but I'm going to improve on that tomorrow. The car has been very good but the problem has been the time I took to adapt to it.
"It's going to be very hard - as usual here in Hungary. It is important to prepare for a consistent performance all through the race and that's what I'm going to talk about now with my engineers."
Meanwhile, Italian Trulli again shone for the Silverstone-based team, qualifying in a promising fifth place ahead of McLaren's Mika Hakkinen.
"A very good qualifying," said Trulli. "I had to abort my second lap because I made a small mistake but, otherwise, everything was fine. The car felt good and I made some adjustments during qualifying which proved to be the right thing to do.
"I have to say I'm pretty happy for me and the team because this new aero package seems to be working very well. Hopefully this will continue during the race and I can keep a good, consistent pace during 77 laps."
Published at 14:26:30 GMT
---