Saturday August 18th, 2001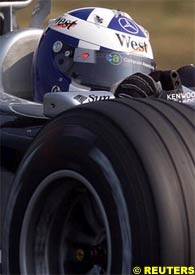 McLaren's David Coulthard is hoping a good start at tomorrow's Hungarian Grand Prix will help him make up for a disappointing qualifying session where he was unable to match the pace of Championship rival Michael Schumacher.
The Scot driver, who lies 37 points behind Schumacher in the Championship with five races remaining in the season, qualified in second place for tomorrow's race, but a massive eight tenths of a second behind his Ferrari rival, who could clinch his fourth title by winning on Sunday.
Coulthard will be hoping to make a better start than his rival to take the lead at the first corner.
"At least I've got a clear run down to the first corner and you rely as a driver now on your start systems," Coulthard said. "As we've seen, on occasion they can go wrong so there's still a hope that I can be leading out of the first corner.
"I am going to go for it if there is the slightest gap. I am not out there to pick up points. I need to win this Grand Prix. If we all go off the grid with traction control working as it should, then there will be no difference in turn one. Even with reaction time, I do a lot of practice on that, but you're dealing in nano-seconds."
Coulthard knows that Schumacher will claim his fourth world title if he wins at the Hungaroring on Sunday, but if that happens he has vowed not to let it get him down.
"Even if it was decided tomorrow that he is the World Champion, I am not going to go 'oh god, what's the point of racing?'," Coulthard added.
"Each race is an opportunity to try and be the best and to try and win the Grand Prix, so I have five more opportunities this year and then I have to wait again for next year for that opportunity in individual races and potentially that opportunity for a World Championship."
Published at 14:42:10 GMT
---