Saturday August 18th, 2001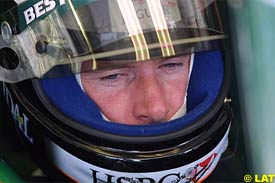 Eddie Irvine was unhappy after he could only manage 14th place on the grid for the Hungarian Grand Prix and said that he expected his Jaguar to be much quicker as the season enters its final five rounds.
Irvine ended qualifying one place behind teammate Pedro de la Rosa as the Ulsterman attempted to make up his lack of performance by pushing to the limit towards the end of the session. Irvine admitted after qualifying that he was expecting to be further up the grid.
"I was trying hard to the extent that I almost lost it completely a couple of times - once in particular through the last chicane when I was literally sideways through it," Irvine said.
"I was expecting to be higher, maybe towards the top 10 but overdriving the car cost me a few places. We really shouldn't be this slow and combined with the mistakes I made we will suffer in the race."
De la Rosa said that the team made no changes to his car after an encouraging practice session and he expected more speed and a higher grid position.
"The car felt well-balanced throughout the session and each run was focused on pushing the limit further," de la Rosa said. "We ran with maximum wing levels and I expected more speed.
"I don't think there was any more to be extracted from the car and the new aero package has helped us with downforce. I am confused as to why we are not further up the grid and life will be far from easy tomorrow."
Published at 14:48:00 GMT
---