Saturday August 18th, 2001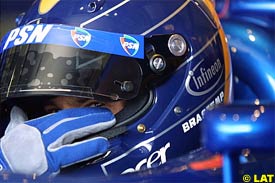 Heinz-Harald Frentzen struggled with steering problems in his qualifying debut for Prost but still managed to finish ahead of teammate Luciano Burti as he ended 16th fastest at the Hungaroring.
The German driver, who was sacked from the Jordan team some three weeks ago, was a second quicker than his Brazilian teammate despite his lack of knowledge of the Ferrari-powered Prost. Frentzen said he was hoping for a good result on Sunday.
"I tried very hard and we put in a lot of effort in finding a better balance for the car," Frentzen said. "On this track you need to have a good mechanical grip and we managed to improve a bit in this area since this morning.
"We knew it wouldn't be easy but we are in progress. I am getting more familiar with the team and I think we can make the most of the car very soon. I'll do my best to finish the race in a good position."
Teammate Burti was 19th fastest and also suffered similar steering problems as he struggled to gain a position at the back of the grid.
"I thought qualifying would be better and I was unable to make the car any better," he said. "For some reasons I suffered from both understeer and oversteer and we tried different things that did not really help. We must understand what the problem is or where we made a mistake because there is no reason to be slower than in practice."
Published at 15:18:28 GMT
---