Saturday August 18th, 2001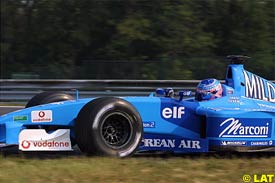 Though slowly moving towards the front end of the grid, the Benetton team could not shine in today's qualifying at the Hungaroring, with a disappointing 15th position for Giancarlo Fisichella while teammate Jenson Button was 17th quickest.
"In terms of pace we are closer than normal to some of the other teams and that is positive," Fisichella said. "But after yesterday's practice and our good form this morning we expected to be higher on the grid, so of course I am disappointed to be 15th.
"I am frustrated about what happened on my last run, because one of the Jaguars got in my way and cost me a couple of tenths which could have gained me two or three positions. Generally, in qualifying trim the problem we encountered was that we did not have enough grip."
Button was forced to use the spare car in qualifying following an engine problem with his racing car during practice this morning. The Briton was not comfortable as the car was set for Fisichella and claimed he was unable to extract the best out of it.
"I only managed a few timed laps this morning because of an engine problem, although I was quite happy with the time I did," said Button. "In qualifying I used the T-car, which had quite a few things that Giancarlo likes but I don't. I didn't really feel comfortable and I couldn't get rid of the understeer, no matter what I tried.
"Giancarlo and I use different steering arms, and as a result his car feels much heavier. That doesn't suit my style. It has just been one of those days, I'm afraid, and I was unable to show the car's full potential."
Published at 15:27:25 GMT
---