Saturday August 18th, 2001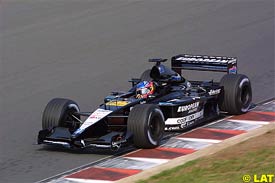 Minardi boss Paul Stoddart was almost at a lack of words to praise his driver Fernando Alonso after the Spaniard put a blistering flying lap to equal his best qualifying position in Formula One on Saturday.
"Two drivers drove outstanding laps in this afternoon's qualifying session: one was Michael Schumacher and the other, Fernando Alonso," said Stoddart.
"The times they set in their respective cars indicate both extracted the maximum possible from the machinery at their disposal. To say the team is pleased would be gross understatement."
Alonso, making his Formula One debut with the Italian team this season, qualified in 18th place with the underpowered car, setting a best lap less than a tenth of a second slower than Benetton's Jenson Button. The 20-year old, like his boss, was delighted with his performance.
"Today I really felt competitive with my car," admitted Alonso. "Everything went very well, the new gearbox and the revised aerodynamic package helping the car to perform much better. Now we are in a position to fight our rivals more effectively and to try to improve our grid positions.
"Perhaps I could have improved just a little bit, but frankly, I believe I pushed to the limit this afternoon."
Published at 15:37:57 GMT
---