Saturday August 18th, 2001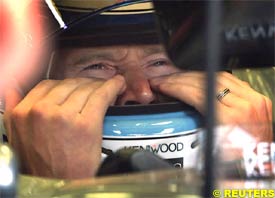 Two-time World Champion Mika Hakkinen vowed to keep on working tonight in order to recover from a disappointing qualifying for the Hungarian Grand Prix.
The Finn, winner at the Hungaroring the last two years, struggled with his McLaren during the hour-long session and finished in a low sixth position more than half a second behind teammate David Coulthard. Hakkinen, who is still to make an announcement about his future, claimed he was unhappy with his car's handling.
However, the 1998 and 1999 World Champion was confident he and his team could work to make his Mercedes-powered car more competitive for tomorrow's race.
"Unfortunately we were unable to get the car to handle the way we would have liked," said Hakkinen. "I had to abandon my only 'decent' run when I ran wide after losing the back end.
"However, the race here will be tough - and both physically and technically very demanding - so everything is possible. We now have to improve the car for tomorrow in the way we have often successfully done during this year."
Published at 15:55:38 GMT
---