Sunday August 19th, 2001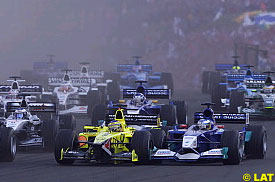 German Nick Heidfeld continued with his impressive second Formula One season after finishing in sixth position for the Sauber team at the Hungarian Grand Prix despite almost going off the track at the start of the race.
Heidfeld, who after Sunday's result is tied in seventh place in the Drivers' Championship with eleven points, clashed with Jordan's Jarno Trulli at the start of the race but was able to continue and give the Swiss team another point in their most successful season since they made their entry in 1993.
"That was a tough but very satisfying point to score today," said Heidfeld. "I was worried that something might break after my brush with Trulli at the start. I'd planned to go to the inside but I made such a good start I had to go to the outside to avoid lifting off.
"I was on the dirty bit of track and was lucky to get round the corner and keep my place. The car understeered a bit more after that, and the engine was cutting briefly and intermittently in turn one, but nothing got any worse and I was able to take the last point. An enjoyable result, especially as nobody ahead dropped out."
Teammate Kimi Raikkonen demonstrated Sauber's good reliability by finishing right behind Heidfeld in seventh place, the Finn praising his team for the race strategy.
"I made a really good start and had got alongside Jarno Trulli, but when he and Nick touched in the first corner I had to back off a little to avoid contact," explained Raikkonen. "After that I had to chase Montoya, but our pit strategy was great and I had a spell in sixth place ahead of Nick and Montoya before my second stop.
"I dropped behind Nick Heidfeld after that and shortly after I'd rejoined the race the pipe to my drinks bottle became detached and sprayed me with liquid. I also lost a rear brake duct as I left the pits, but though that made the car oversteer a little more my lap times stayed the same, so it was okay. Everything felt fine."
Sauber is still in fourth position in the Constructors' Championship with 20 points, ahead of both the Honda-powered team BAR and Jordan.
Published at 14:57:51 GMT
---