Sunday August 19th, 2001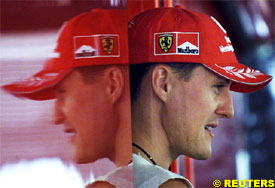 Michael Schumacher was filled with emotion as he praised his Ferrari team after they landed the Drivers' and Constructors' Championships on Sunday while the German joined Frenchman Alain Prost as the most successful Grand Prix winner in history.
Schumacher eased to his 51st Grand Prix win in Hungary after clinching a dominant pole position on Saturday, and admitted that he was lost for words after securing the fourth World Drivers' title of his career.
"I was talking to the team on the radio on one of our slow laps and I was trying to find the right words," said Schumacher. "You'll have to forgive me, I might be a good driver but I'm finding it hard to know what to say.
"I can't say much more than it has been a beautiful weekend. We couldn't have done much better. When I came here I thought it would be tough but we got pole and then won. It's a bit too much for me. It is a great achievement. But a lot of it is the team around me and Rubens.
"I can't believe how wonderful the guys are, they are such a great crew. I'm in love with them all."
Schumacher's title is the second in a row with Ferrari and the eleventh Constructors' Championship for the Italian team.
Published at 15:07:20 GMT
---