Sunday August 19th, 2001
By Alan Baldwin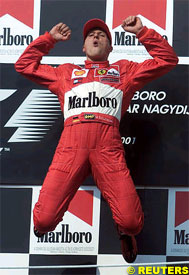 'The Greatest Driver of his Generation' is the tag commonly attached to Michael Schumacher whose record collection - statistically speaking - is far and away the most impressive in Formula One.
He has a record-equalling 51 wins and more fastest laps than any driver. He will take the all-time points record next season, if not this, and is only the third driver to win four titles. The Ferrari driver is also one of the wealthiest and most recognisable sportsmen on the planet - but there are several other sides to the German.
He is a family man, a contented father of two who plays football with the locals in his Swiss village and prefers rural tranquillity to Monaco high-living. He drives a Ferrari, but also has an aged if immaculate Fiat 500 in his garage -- a memory of the first car he owned when he was a garage apprentice in Kerpen, near Cologne.
Ask him how he sees himself and the 32-year-old points out he is like many high-profile athletes who live double lives.
"I'm pretty happy with my life. I know what I can and cannot do," he said at the Hungaroring last week. "I'm certainly not what people may think sometimes. I'm a human being and that's it. I have the ability to race a little bit faster than others.
Different Views
"To be successful you have to be professional and you have to maximise your opportunity, which doesn't mean you are a computer," he said. "You are still a human being after you have finished your job. There are kind of two lives and you see very often with sports people that there are two personalities."
There are some who would say that his modesty is forced. Schumacher has never been a shrinking violet and is famed as one of the masters of Formula One's psychological battlefield where a split-second decision at 300 km/h can be life-threatening for you and your rival.
The Schumacher seen in Britain is clearly different to the one adored in Germany, while the driver who celebrated in Budapest on Sunday is clearly a much changed man from the man who won titles for Benetton in 1994 and 1995. In Britain, he remains for many the German who clashed repeatedly with 1996 champion Damon Hill and whose career will always carry the stain of controversial even dangerous tactics.
"This is supposed to be a sport isn't it? It seems that Michael is happy to use any means of preventing anybody else winning," Hill said in 1995.
Jacques Villeneuve and David Coulthard, his main rival this season, have also exchanged angry words with the German, particularly the Canadian after their 1997 final showdown. In that race, at Jerez in Spain, Schumacher made a rash and ultimately failed attempt to prevent Villeneuve taking the title by turning into him as the Canadian's Williams slipped past.
Schumacher was later stripped of his second place in the Championship for that offence.
Different Perspective
German and Italian fans, travelling in their tens of thousands with their red caps and flags to see their beloved Schumi, have a different perspective. In both countries he is a hero, even more so in Italy since his former cold and arrogant image has softened.
Schumacher still speaks to the Italian media in English at races but he made an effort to address the crowd in their own language at the Ferrari launch at the start of the year. He cried at Monza last season when he equalled the late Brazilian Ayrton Senna's 41 wins.
He has also talked movingly of his parents' split and at races is frequently to be found with younger brother Ralf in the Williams motorhome chatting or enjoying an ice cream. Throughout his career he has benefited, if not from being given the best car, certainly from having a team built around his prodigious talents. Ferrari have taken that to new levels.
"It is not his problem. That is the key of everything," said four times champion Alain Prost, whose record of 51 wins was equalled by Schumacher in Hungary.
"He does not control the competition himself but the way they have organised the whole thing, Ferrari and himself, is so strong. It's to his credit."
One of three driver representatives who liaise with the ruling International Automobile Federation (FIA), Schumacher has become a paddock statesman admired increasingly as a model professional. His eye for detail is phenomenal and the feedback he gives engineers famed. Other drivers may have more charisma but today Schumacher is undoubtedly the public face and master of Grand Prix racing.
"Michael is in a different league," says former Ferrari teammate Eddie Irvine. "He has just got an innate ability to drive a car better than anyone else."
Published at 15:28:49 GMT
---