Sunday August 19th, 2001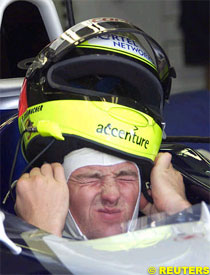 As his brother Michael became World Champion for the fourth time in his Formula One career, Ralf Schumacher finished in fourth position for the Williams team after what the young German claimed was the toughest race of the season.
Ralf, who had started from fourth place with the Michelin-shod FW23, was unable to follow the pace of the leaders and had to settle to fight with McLaren's Mika Hakkinen during most of the race. The German Grand Prix winner finished nearly 50 seconds behind his brother, but admitted he was looking forward to the title celebrations.
"This was the toughest race of the year," admitted Ralf. "I was constantly fighting both oversteer and understeer. I had to work very hard to defend my position against Mika Hakkinen, which I managed to do.
"Although I didn't make the podium today, I am looking forward to celebrating my brother's fourth World Championship today."
Colombian Juan Pablo Montoya also endured a tough race, the rookie running off the track more than once and finishing in a disappointing eighth place.
"This was one of those weekend when nothing really worked for us," said Montoya. "The car felt bad from the beginning to the end of the race, but I was determined to finish as the boys had worked so hard for me. What can I say, just a weekend to forget I think."
Published at 15:44:30 GMT
---