Sunday August 19th, 2001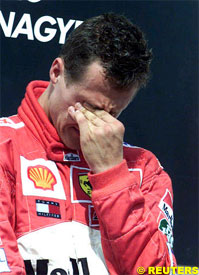 Alain Prost warned that there is more success to come for Michael Schumacher after the German driver joined him as a four-time champion in Hungary on Sunday.
Schumacher equalled Prost's record of 51 Grands Prix victories with his Hungaroring success and the French team-boss insisted that the reigning champion has the talent and discipline needed to stay at the top for years to come.
"I have followed his career like everybody else and it is obvious that he deserves what he has achieved," said the man dubbed 'the professor' for his studious approach. "What Michael has managed is a great achievement, but it is also a perfectly natural thing.
"I know better than anyone how tough it is to be a World Champion and how very tough it is to be a four-times champion. Michael has the qualities to succeed with his talents and his concentration and motivation. That is why I believe he can be a five-times or even a six-times champion. He and Ferrari are a big force now. I don't know if he can win 60 or 70 races, but there is no reason why not. I really don't know.
"In the end, that will depend on him and the team, but it is possible. The biggest thing for him will be his motivation and for me while he still has it, he will be able to win the titles. That is normal."
Prost has recently been plunged deep into controversies after a major row with veteran star Jean Alesi saw him walk out of the team to join Jordan and forced him to sign Heinz-Harald Frentzen as his replacement.
But he dismissed his gloomy mood to applaud Schumacher despite admitting that the 32-year old German master has little opposition. In his own Championship years, Prost had to cope with beating such men as Niki Lauda, Nigel Mansell, Nelson Piquet and Ayrton Senna.
But Schumacher's only genuine rival since the death of Senna in 1994 has been Mika Hakkinen.
"That is not his problem is it?" he said. "He does not control the competition himself. The way Ferrari have organised the whole team has made Ferrari so strong that it is part of the success and it is to his credit that this has happened.
"But it is not his fault that there is less competition. The whole thing was different with me when I was racing and I think it was different in Fangio's time and in Jim Clark's time for sure.
"But what Michael has achieved is down to his own efforts in his life and in his career. He has a big challenge now with the statistics, of course, but he knows what to do.
"I was looking at that a little bit (when I was racing). It's always a challenge and obviously the most important thing is that when you have a car like he has, like I had at one stage, and you are able to win every race then obviously you don't look at the statistics.
"You just think 'okay, I am going to win this race' then after the race is when you look at the statistics. That is what he thinks, I am sure. I had the same thing. When you drive you don't think you are going to win. Then you do and you think, oh yeah, I broke the record."
Published at 15:51:19 GMT
---