Sunday August 19th, 2001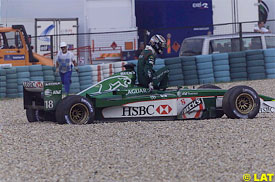 Jaguar pair Eddie Irvine and Pedro de la Rosa were left unhappy after yet another below-par team performance which earned them no points at the Hungaroring.
Irvine drove too quickly into the opening corner and spun off as his race ended prematurely once again. The Ulsterman, who had qualified behind his teammate on Saturday took full blame for the incident.
"That's probably one of the shortest races ever for me," Irvine said."It was my fault completely. I was running down the dusty side of the track and simply went into turn one too fast. The back end of the car spun around but I couldn't catch it in time. It's been a very disappointing weekend from the minute we arrived.
"I made a big charge at the beginning but maybe I carried too much into the corner and paid the price. With so few races left and only four points earned from the season so far, we've got to address the issues before Spa."
Spaniard de la Rosa finished a lowly 11th out of 12 classified finishers. De la Rosa admitted that his performance did not reach expectations and said that the team must work hard to get on the pace before the end of the year.
"We were expecting much more from this tight and twisty track and I am disappointed with not even being close to fighting for points," de la Rosa said. "My first set of tyres began blistering quickly after about five laps. We've been made to look average this weekend and it's not an easy one to understand."
Published at 15:57:49 GMT
---