Sunday August 19th, 2001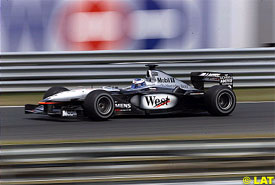 Finn Mika Hakkinen blamed Italian driver Jarno Trulli after finishing in a distant fifth place at Sunday's Hungarian Grand Prix for the McLaren team.
The two-time World Champion, who had qualified in sixth place, was stuck behind the Jordan driver in the initial part of the race, unable to overtake at the slow and twisty Hungaroring circuit. Once the Italian pitted, Hakkinen was able to lap faster and close on Williams' Ralf Schumacher.
However, Hakkinen was forced to come into the pits for a third time to refuel and had to settle for fifth, finishing more than a minute behind race winner Michael Schumacher.
"During the first 29 laps of the race, I was stuck behind Trulli who was about 1.5 seconds slower per lap than me," said Hakkinen. "It was only after his first pit stop that I could start to make inroads on Ralf Schumacher who by then was about 30 seconds ahead.
"Then I had to come in for my additional fuel stop and that was it. The speed of my car was very good and the lap record is a small consolation for my efforts. Now I'm looking ahead to the next race at Spa-Franchorchamps."
Published at 16:16:00 GMT
---