Sunday August 19th, 2001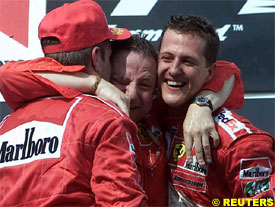 Michael Schumacher admitted that he suffered a bout of nerves as he rounded the Hungaroring in the latter stages of the Hungarian Grand Prix and approached the chequered flag for his fourth world title.
German Schumacher slowed down in the closing stages of a race that he dominated in his Ferrari, and it was the uncompetitiveness at the front of the field that worried him.
"I came here with a not so optimistic view for the weekend," said Schumacher. "I don't know why, I was pretty relaxed all weekend, but thinking somehow that it wasn't going to happen here.
"I wasn't purposely putting pressure on myself, it was just like that. So the last three laps I only started to think 'well, it's supposed to be this weekend' And that's when you get even more nervous, honestly, when you can make a mistake."
Schumacher's joy was equalled by the Ferrari team as Rubens Barrichello finished second behind Schumacher at the Hungaroring to secure the Constructors' Championship.
Brazilian Barrichello said he was proud to be Schumacher's teammate as the pair look to stamp their authority over the final four races of the season.
"I'm having a wonderful season and I'm really proud to be his team-mate," said Barrichello. "I think it's a fantastic achievement. It's something that I'm very proud of, something that Michael deserves and the team deserves. I'm really proud to be with them."
Published at 16:24:12 GMT
---