Sunday August 19th, 2001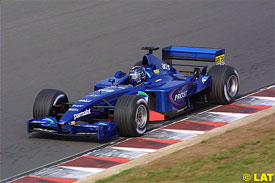 German driver Heinz-Harald Frentzen confessed a driving error cost him the possibility to finish his first race for the Prost team at the Hungarian Grand Prix on Sunday.
Frentzen, who was making his debut with the French team following his premature exit from Jordan, completed a disappointing race after a terrible start, which finished when the German made a mistake with eleven laps remaining.
Frentzen, however, was confident of better results in the four races left in the Championship.
"My car had pretty much the same balance in the race as in practice," Frentzen said. "Unfortunately I retired only eleven laps before the end. Basically, I put too much power in a corner and went off the track.
"I learnt a lot today, and throughout this weekend. We did a lot of tests, we almost completed a race distance. Obviously, we struggled quite a lot here, but I am still optimistic and I am confident we will clearly improve for the next races."
Brazilian Luciano Burti was also unable to finish the race, being the first time this year that none of the Prost cars made it to the finish.
"It is a shame I had to retire so early in the race," admitted Burti. "Some blisters appeared very quickly on my tyres, and my car had just no grip at all, which is why I spun.
"The positive aspect is that, after an extremely difficult start to the weekend, we made some changes during the warm-up which made me a lot happier with my car. I feel sorry I did not have a chance to go to the end."
Published at 16:56:14 GMT
---