Sunday August 19th, 2001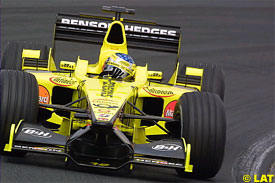 Jean Alesi admitted he felt much more relaxed after finishing his first race for the Jordan team in his debut with them at the Hungarian Grand Prix.
Frenchman Alesi moved from Prost to Jordan following the German Grand Prix and after qualifying in twelfth place more than a second behind teammate Jarno Trulli, the veteran driver was happy having made it to the chequered flag on Sunday.
"For technical reasons, I had to take the spare car for the race," said Alesi. "The start was not very good but I had the chance to overtake a Jaguar. Overall, this was my first race for Jordan-Honda and I had so many things to learn.
"I had to look after the front tyres at first, and then the rears. Then after each pit stop, it was the first time I had used a clutch control mounted on the steering wheel; so lots to learn. But now I have managed to finish, I feel much more relaxed about future races with the team."
Italian Trulli was unable able to translate his good qualifying position (5th) into a positive result for his team, and retired with a mechanical failure 24 laps from the end.
"For the first four of five laps I was able to keep pace but then I had a drop-off in lap times," said Trulli. "We were not competitive suddenly and then, in my first pit stop, I lost a few places because of a long stop. I tried really hard to push, I never gave up.
"I drove on the limit, attacking all the time but unfortunately the car was behaving strangely, sliding a bit everywhere. I had a lot of problems but I can't say at this stage how much that was due to the car and how much it was due to the track being slippery. Finally, I had to stop with 24 laps to go."
Published at 17:43:52 GMT
---