Sunday August 19th, 2001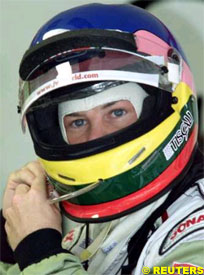 Jacques Villeneuve and the British American Racing team completed a disappointing weekend with a poor ninth place at the Hungarian Grand Prix on Sunday.
The Canadian driver had finished in third place at the German Grand Prix three weeks ago, but at the Hungaroring he was unable to repeat the feat and had to settle for ninth two laps behind race winner Michael Schumacher. The 1997 World Champion was downbeat after the race.
"A disappointing race for the team today," admitted Villeneuve. "We weren't very quick all weekend and we suspected a problem with the race car. For that reason we used the T-car in the race, which I was more comfortable with.
"We didn't have the aerodynamic developments on the T-car though so we were left with the choice of a car with less downforce or a car with a possible mechanical problem. Obviously we had to choose the one with less downforce so 9th was the best we could do today."
Teammate Olivier Panis was equally unhappy with his race, the Frenchman having to come into the pits with an engine problem and losing several laps.
"I haven't been very lucky again," said Panis. "The team worked hard and I pushed as much as I could during the race although the car wasn't very easy to drive. After the second pitstop I had a problem with the car and had to come back in.
I stayed in the car for a long time working with the engineers to try to find out what was wrong and hopefully get back in the race. I have great confidence in the team. Everybody wanted to solve the problem here so we can feel positive going into the Belgian Grand Prix."
Published at 18:26:51 GMT
---