Sunday August 19th, 2001
By Timothy Collings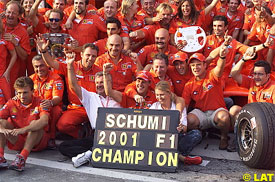 After all the carefully laid plans that helped Michael Schumacher to his fourth Drivers' Championship and record-equalling 51st Grand Prix win in Hungary, Ferrari were left to improvise the celebration party.
Having won the Constructors' title for a third consecutive year as well, they had established themselves as the most professional and well-prepared team in the pitlane, but had forgotten to put any champagne on ice or book a party venue.
"I think we will improvise something," said Schumacher.
"It will be very wet. We did not expect this. We did not prepare anything by way of celebration because we thought it was too risky to think about that, but now we have won there will be some celebrating," said technical director Ross Brawn.
A few years ago, when others were in their pomp with the Maranello team, the priorities were very different. Lambrusco was served at lunchtimes for the mechanics, the drivers were celebrities and it was fun all the way - but without any results.
Before Schumacher arrived and turned the once highly-political and almost unmanageable Ferrari team into a winning machine, the Italians had languished for nearly two decades without a drivers' triumph to celebrate. Jody Scheckter of South Africa delivered their last pre-Schumacher drivers' title in 1979 and a stream of established men, including Frenchman Alain Prost, came and went without changing Ferrari's luck.
Prost, who went on to win four titles, departed in acrimonious circumstances after comparing his Ferrari car, at the end of the 1991, to a truck. The team dismissed him and he missed the season-ending Australian Grand Prix.
Industrious Drivers
Only when Schumacher arrived at Ferrari in 1996, as one of the final parts in Frenchman Jean Todt's team-building exercise, did Ferrari begin to transform from also-rans into front-runners. Schumacher was the catalyst of progress, attracting other men to join him, motivating everyone and setting an example as one of the most industrious drivers the team had seen.
So when Schumacher hinted he was ready to drop his guard and enjoy a celebration on Sunday evening, the team moved swiftly to arrange a dinner party to remember before making a triumphant return to Italy on Monday.
"This year's success is particularly sweet as we were up against two very strong rivals," said the team's champagne-soaked sporting director Jean Todt. "Tomorrow we return to Maranello to celebrate these titles with all of the Ferrari staff.
"In fact, at the moment, I am thinking mainly about all these people and their work which has contributed so much to this great result."
Todt also revealed that Schumacher had given his victors' trophy to Barrichello in recognition of the part the Brazilian had played in helping him to glory.
"I think we are in a Ferrari era, but we will not be taking anything for granted now and we will work very hard to continue this great period of Ferrari history," said Brawn, the Englishman whose partnership with Schumacher is widely recognised as the foundation on which the team's success has been built.
"We are excited about the car we have for next year, two very good drivers and a very good team, so let's hope it continues. But our ambition now is to do everything we can for Rubens and to get him into second place in the Championship. There is still a lot to fight for," he added.
Published at 20:33:53 GMT
---