Wednesday August 22nd, 2001
By Alan Baldwin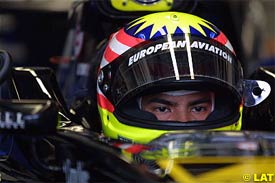 Malaysian Alex Yoong says he is ready for Formula One and hopes he could yet make his race debut for Minardi in Belgium next week.
Much will depend on a two-day test in Italy starting on Thursday and Yoong brushes off those who dismiss him as another pay driver whose road to the grid has been smoothed by sponsorship cash. All the 24-year old wants is the chance to become his country's first Formula One racer.
"I've got to be honest, I am bringing sponsorship to the team but every driver has to bring sponsorship, it doesn't matter how good you are. I just want the opportunity," Yoong told Reuters in an interview. "Give me the opportunity and that's all I'm looking for here at the moment."
If all goes well at Mugello, Yoong should obtain his FIA super-license which will then allow him to take Brazilian Tarso Marques's place at Minardi for the remaining races of the season.
"Hopefully I'll be starting soon," he said during an appearance at the Donington Park circuit in a Minardi two-seater Formula One car. "I'm ready to go for Spa, I've got no problems in going for Spa. But you know, whenever [team boss] Paul [Stoddart] says, whenever the team are ready really.
"It could be Spa, it could be Monza."
English Mother
Stoddart said last month that Yoong had driven "quite exceptionally well" in his last test and could be in the car as early as Spa on September 2. Monza is two weeks later. Yoong, whose mother is English and born in London with family roots near Middlesbrough, has struggled against the odds in a low-profile career.
He competed in British Formula Three, Formula Renault and Formula 3000 without making a huge impact. Most recently, he has been racing in Japan's Formula Nippon where he failed to score points last year.
But, with Malaysia hosting a Grand Prix and also deeply involved through sponsors such as oil giant Petronas who back Sauber, some of the more cash-strapped Formula One teams expressed an interest.
"Obviously my results over the last few years have been pretty...frankly, crap," said Yoong, who is now backed by gaming company Magnum. "I had a big shunt last year [in Formula Nippon] and ever since then we've been using an old chassis that's heavier than everyone else's and been crashed a couple of times and been patched up a bit.
"The two tests [with Minardi] showed that I can do a good job and I don't think it [the super-license] should be a problem."
Yoong said he will have to "beg and borrow a bit more" to compensate Formula Nippon organisers and sponsors if he pulls out of that series before the end of the season. A drive with Minardi, who have big ambitions but just one point from the last five years, would make Yoong only the second non-Japanese Asian to drive in Formula One.
The other was the late Prince Bira of Siam, now Thailand, who entered as a wealthy private competitor in the 1950s with two fourth places to his credit.
"The history is big, big, big time. Not just for Malaysia but for the whole region," said Yoong of the significance of his eventual race debut for compatriots used to considering Formula One as out of their league. Especially in Malaysia's case, but a little bit for the whole region, there is a kind of sense of disbelief that this could happen."
Published at 13:28:07 GMT
---