Thursday August 23rd, 2001
By Simon Evans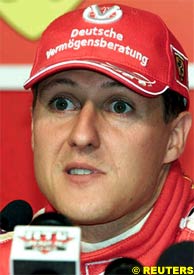 Michael Schumacher is ready to help Ferrari teammate Rubens Barrichello take second place in the Formula One Championship if the Brazilian needs his assistance.
"I am pretty sure I can do something for him," the four times World Champion told reporters on Thursday. "The question is if he needs it or not. He needs to be as strong as he was in Budapest and if he is, he can be there".
With four races of the Championship remaining, Barrichello is third in the driver's standings five points behind McLaren's David Coulthard. The Brazilian drove to an impressive second placed finish, behind Schumacher who won his fourth world title, at the Hungarian Grand Prix on Sunday.
Ferrari have made it clear that, with Schumacher having defended his title and the Constructor's Championship also won, they want Barrichello to secure the runner-up spot.
"Our ambition now is to do everything we can for Rubens and to get him into second place in the Championship. There is still a lot to fight for," technical director Ross Brawn said after Sunday's triumph.
Former World Champion Nigel Mansell, who drove for Ferrari in 1989 and 1990, suggested on Tuesday that the German might be in a position to hand his teammate a victory.
"I think you'll find that Michael might be very generous and give a race maybe to Barrichello if it's possible. Rubens has helped him on a number of occasions...Michael's taken points off Rubens several times in the past."
Team Orders
The Brazilian has obeyed team orders this season and let Schumacher, who needs one more win to set a Formula One record of 52, overtake for second place in Austria. Barrichello told the Italian daily Corriere dello Sport on Thursday that he was sure his teammate would help his efforts to bring Ferrari a one-two season finish.
"I am sure that if there will be a need he will give me a hand. Michael is a great and he has acknowledged...I have helped him to win more easily. Some things you cannot forget," said the Brazilian.
But Barrichello said it was impossible to say exactly how Schumacher might help.
"In Formula One it is difficult, if not impossible to plan strategies when you simply don't know what is going to happen the next day. However we need to always find the best way and decide on each occasion. The main thing is that there have never been any problems between Michael and myself, we have an excellent rapport."
Schumacher showed that when he explained how he handed the Brazilian the winner's trophy, a steering wheel, as thanks for his efforts after the win at Budapest.
"We both saw the first-place steering wheel at the event and I saw his eyes," said Schumacher. "He has complained that he has so many of them for second and third place, so it was good to give him back something for all the help he has given me."
Published at 13:24:19 GMT
---