Thursday August 23rd, 2001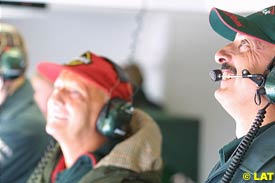 Ford will announce on Friday morning the resignation of Jaguar Racing's Chief Executive Officer Bobby Rahal, it was revealed this evening.
Rahal, who joined the team at the end of 2000, less than a year ago, met this afternoon with Ford's president of the Premier Automotive Group, Wolfgang Reitzle, after relationship within the team management had become sour over the past couple of months, primarily between Rahal and Niki Lauda.
Lauda himself will now be taking over the running of the team, while the ex-CART Champion will receive around six million US dollars in severance fees, for the early termination of his 3-year contract.
The atmosphere within the team has been said to deteriorate after the unsuccessful coup of designer Adrian Newey. Rahal, a long time friend of the McLaren technical director, had managed to close a deal with Newey, which would see the talented designer join the team in the summer of 2003. However, Newey changed his mind and decided to remain with McLaren.
The Newey affair brought much embarassment to Jaguar, and insiders said it also began a rift between the American and Lauda. To this was added the claims that Rahal tried to sell Eddie Irvine's contract to Jordan, during last month's German Grand Prix.
Earlier this week, Jackie Stewart said the Irvine affair - which Rahal claimed was said as a joke - was not the instigator of Rahal's ousting. "I don't think that was the final straw," Stewart said. "But there is clearly a lot of chat at the present time.
"There has been some discomfort for some time and obviously the team are disappointed by the performance," added Stewart, who is still involved with Jaguar after selling his Stewart team to Ford back in 1999.
Jaguar Racing are expected to release an official announcement on the matter early tomorrow morning.
Published at 22:31:07 GMT
---