Friday August 24th, 2001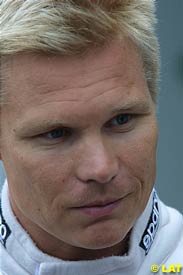 Mika Salo says he remains positive about Toyota progress and believes the team is heading in the right direction, the Finn reacting to previous reports which claimed he was disappointed with Toyota's lack of speed.
"There were reports that I'm dissatisfied with the progress at Toyota, but someone has totally misunderstood me," the Finnish driver wrote in his column, published in Finland's Kustannusosakeyhtio Iltalehti.
"Granted, deep inside myself I was hoping that we would have made a bit more progress, but I'm not disappionted by any means. I knew getting into it how demanding and challenging this project would be. Setbacks will follow one another, you'll just have to get used to it. My accident last spring, and the long period out of the car probably didn't help matters.
"It has been encouraging to see that a particular problem doesn't hold us back for long, we've been able solve every one of them pretty quickly," Salo added. "Of course there are always new problems the next day, but we're continuing to make forward strides.
"Last week at Spa-Fanconrchamp we had our first really encouraging test. I drove 80 laps per day at the world's greatest race track in total peace. I learned a lot of things that thought I had already known, and our lap times were not too bad either. No need to dwell on the times at this point, however.
"We know that our current car is overweight, and it's most important to get first reliable, then concentrate on speed. Luckily, we can test till the end of the year."
Salo also referred to the F1 teams' discontent with Toyota's plans to test until the end of 2001, while the others are not allowed to test after the season is over. "All the other teams seem to be against us testing from October till the end of the year," he said, "but there's nothing they can do about it. The rules are for current F1 teams, and we won't officially take part until 2002.
"We paid a hefty fine for not partaking this year, so nobody should have any reason to complain. But maybe we should be flattered: people are taking Toyota seriously."
Published at 22:43:24 GMT
---