Saturday August 25th, 2001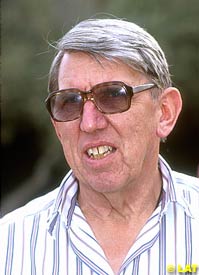 Ken Tyrrell, who founded the Tyrrell Racing Team and launched the career of triple World Champion Jackie Stewart, has died at the age of 77, his family said.
Tyrrell, one of the most influential and popular figures in Formula One in the 1960s and 1970s, died in the early hours of Saturday morning at his home in Surrey, England.
Stewart, who won 25 Grand Prix with Tyrrell during a 10-year association, led the tributes to the innovative Englishman known to those who worked with him as 'Uncle Ken'.
"Ken was the most important person in my life outside my family," said Stewart, who was given his first drive by Tyrrell in 1964. "He was so much more than the team owner and team manager. Ken was like a father.
"Ken Tyrrell did not just take an interest in his drivers, he really cared in the deepest sense about everyone who worked with him.
"We didn't have a contract after our first year because, quite simply, we didn't need one. In his time, Ken was simply the best," said Stewart who won three world titles in 1969, 1971 and 1973 when he retired. The Tyrrell team won the Constructors' Championship in 1971.
The Ford Motor Company recognised Tyrrell's potential when he was setting up his F1 team and it was their engines that would power his cars in his most successful years.
Martin Whitaker, European director of Ford Racing, said the sport had lost "a pioneering spirit" and a "great competitor."
Whitaker added: "Together with a dedicated band of engineers and mechanics Ken took on the established marques of the sport - Ferrari, Lotus and BRM - and beat them with a combination of talent and flair."
Other drivers to work with Tyrrell included Jean Alesi, Jody Scheckter, Ronnie Peterson, Francois Cevert, Patrick Depailler, Didier Peroni, Martin Brundle and Michele Alboreto.
After serving with the Royal Air Force in World War Two, Tyrrell made a fortune in the timber business before becoming involved in motor racing in the 1950s.
His team, famed for its innovation and often working with limited financial resources, enjoyed its greatest success in the 1970s.
Frank Williams once said that Tyrrell was the model on which he built his own highly successful F1 team. Tyrrell went into a steady decline during the 1980s before it was sold to British American Tobacco in 1997.
The Tyrrell team competed in 491 Grand Prix, winning 33 of them while securing pole position 19 times and recording 77 fastest laps. Tyrrell was diagnosed as suffering from cancer of the pancreas in 1999.
Published at 11:17:55 GMT
---