Saturday August 25th, 2001
By Will Gray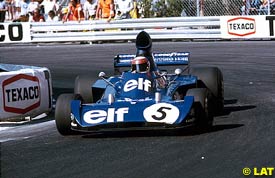 Ken Tyrrell, who has died aged 77, was a long-serving and well-respected member of the Formula One fraternity and achieved great success during his 31 years in Grand Prix racing before leaving the sport in 1998.
One of his greatest qualities was his openness and honesty through which earned him the nickname 'Uncle Ken'. But that too was, perhaps, the reason why his once great team faded before being sold to British American Racing at the end of the last century.
After serving with the Royal Air Force in World War II, Tyrrell made his fortune through the timber industry and used that to fulfil his burning racing ambitions in the early 50s.
Racing, however, was not for him, and he realised his true potential in team management, which he entered in 1960 when he set up the Tyrrell Racing Organisation.
Stewart Partnership
He built his operation through the lower 'Formulae' where he begun a long and successful collaboration with Jackie Stewart when, in 1964, he ran the then young Scot in Formula Three.
Tyrrell's Formula One adventure began in 1968 when he secured a Cosworth engine and Matra chassis and ran under the 'Matra International' banner. The team made an immediate impact.
He took Stewart with him and they secured four race victories on their way to securing second place in the Drivers' Championship. The debut season showed that Tyrrell meant business and he and Stewart went one better when they cruised to victory in the 1969 world championship.
The first official Tyrrell entry came the following year when the team initially used a March chassis before introducing the Tyrrell 001 at the Canadian Grand Prix. With the car refined, Stewart and Tyrrell were able to storm to their second World Championship and to Constructors' Championship glory, the only for Tyrrell as a marque, in 1971.
Tyrrell took his third and final World Championship victory, once again with Stewart in 1973, although the team missed out on the Constructors' title after the death of second driver Francois Cevert.
Stewart retired after that 1973 season and from then it was downhill for Tyrrell as a major force in Formula One. The team continued to be successful, but failed to dominate despite innovations such as the unusual six-wheeler, which they raced in 1976.
Money Problems
At the end of the 1970s Tyrrell's main backer, French oil company Elf, switched allegiances to Renault and Ligier, leaving the British team owner struggling to find essential funds.
He was forced to run young drivers, but once again he was able to retain the team's competitiveness while launching the careers of Michele Alboreto, Martin Brundle and Jean Alesi through the 1980s.
Tyrrell tasted victory two more times, with Alboreto at Las Vegas in 1982 and Detroit in 1983, but after that dropped down to the midfield runners as the big money which flooded into Formula One missed the team.
Having always been known for innovative cars, Tyrrell continued the tradition by signing the designer Harvey Postlethwaite to re-ignite the late 1980s. He created some neat solutions and introduced the revolutionary high nose concept into Formula One.
But in 1997, money troubles hit again and Tyrrell was forced to sell up and leave Formula One. British American Racing took their place in Grand Prix racing, and begun a new era as a long and successful one ended.
Tyrrell's departure was not on the best of terms after initially planning to stay on for the 1998 season but relinquishing control to the new owners in February 1998.
Just one year later Tyrrell was made president of the British Racing Drivers' Club, but he was diagnosed with cancer of the pancreas, to which he succumbed on Saturday.
Published at 17:06:37 GMT
---