Wednesday August 29th, 2001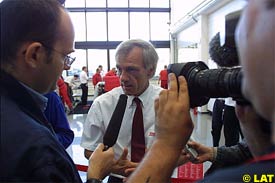 New Jaguar Racing team boss Niki Lauda has said Technical director Gustav Brunner has rubbished suggestions that Toyota's times in testing prove they are not ready for Formula One, but said that they do need to advance development of their car.
Toyota enter Formula One next season and Mika Salo and Allan McNish have tested the car at Silverstone, the Nurburgring, Monza, Barcelona and Spa, and though Brunner acknowledged that improvements still need to be made, he played down the importance of their times during testing.
"It (the car) is better than some of the testing results show because sometimes you see us six seconds off the pace," said Brunner. "But it doesn't really mean anything. It is not our aim to go for quick lap times or to do something to the car to make it go quicker because we need to test our team.
"If we went for an outright lap time then for sure we would be behind but it would look a lot better. The engine is the most advanced, but the car is further behind although we haven't worked much on the car."
In the Japanese team's last test at the Nurburgring, both Salo and McNish were more than five seconds off this year's pole position time.
Published at 15:11:45 GMT
---