Thursday August 30th, 2001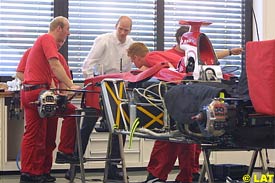 Toyota's engine project manager Luca Marmarini is confident that the team will prove the critics wrong when they join the Formula One field next season.
Marmarini believes the power-unit he has helped develop for the Cologne-based team will help Toyota improve throughout the season and banish thoughts they will be uncompetitive despite their pace during testing in 2001.
"I cannot expect we would be with the best, but all expectations are to be at least in the midfield and all the people involved are looking for this," said Marmarini, a former Ferrari engineer. "I am glad that our Japanese management would be happy if we came last, but personally I would be disappointed. We know that it will be tough, but I think to dream of better is realistic.
"Next year's engine will be basically an evolution of this one and we had to design this engine since the beginning with the philosophy that it would race in 2002. We couldn't have started with an old engine.
"We had to invest a lot in new technology, new things, and to find the reliability and times for next year. I think it is already an innovative engine."
The Japanese team will make their official Formula One debut next season after spending 2001 carrying out an intensive testing programme, and despite being off the pace during testing Toyota expect to be more competitive when it comes to racing in 2002.
Published at 13:04:15 GMT
---