Thursday August 30th, 2001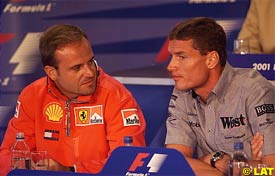 Ferrari have won both the Formula One titles but Rubens Barrichello says his season is just beginning to get interesting.
"For me, the season has just started," World Champion Michael Schumacher's Brazilian teammate told a news conference on Thursday ahead of Sunday's Belgian Grand Prix.
Schumacher's success in securing his fourth title at the last Hungarian Grand Prix with four races to spare may have killed off the suspense but it has revived his teammate. Ferrari and Schumacher have said they will now focus on helping Barrichello, currently third, to second place in the standings.
And that could mean the Brazilian, with just one career win to his credit in 143 races over nine seasons, will have a better chance of victory.
"There's a great fight that we are still going to have," said Barrichello, who is five points adrift of McLaren's David Coulthard and two clear of Williams' Ralf Schumacher. "I saw a lot of people wearing the number one cap for Michael just saying 'Rubens, Rubens.' It's just started for me," said the Brazilian.
"I have four races to try and win. It's not very common for you to see the whole team working for two drivers and for you to have Michael as someone who can help you. (Usually) the whole time he is flat out doing his job and most of the time you are there to help him. So I have to do the best and try to win."
Making it Possible
Barrichello said he did not know what to expect from Schumacher and he would have to do what he could to make it possible.
"If he's winning the race and I'm fourth or fifth, there is no way he can help. So I have to help myself before I ask for any help from him."
The Brazilian said the two drivers had not yet discussed ways in which the German could help either. But he sounded encouraged by what he saw as increased support at home among fans who had proven fickle earlier in the year.
"You don't have the support sometimes when you need it but so far they are looking at the position, with four races to go, that Rubens might have a chance to win and let's support him."
Coulthard played down suggestions that he was not interested in finishing second but he made clear he was more focused on winning races than scoring points.
"My motivation isn't to finish second. My motivation is obviously to win," he said. "I look at these last four races and it's about trying to be in a position to get 10 points out of those individual races.
"If I do the second best job this year, then I'll finish second - if I don't, then I won't. But it doesn't change the motivation to win."
Ralf, Michael's younger brother who has won three times this season for the BMW-powered team, said he had already exceeded his and Williams' expectations.
"I didn't expect to be in this position. Now I am, we'll try it," he said of the push for second place.
Published at 14:13:39 GMT
---