Thursday August 30th, 2001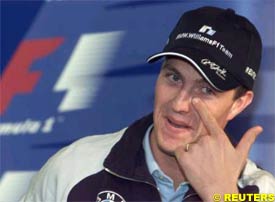 Ralf Schumacher has dismissed suggestions he is being favoured by the BMW-Williams team over teammate Juan Pablo Montoya.
German Schumacher will drive the team's new development chassis at the Belgian Grand Prix this weekend, while Colombian Montoya will be in the old car. Schumacher has played down any importance in the decision and said he and Montoya are focused on just one thing - getting second place in the Constructors' Championship for the team.
"Second in the Drivers' (Championship) does not mean anything to Williams," said Schumacher. "They want (second place in the) Constructors' so either driver will do. I am allowed to drive the developed car but that is it."
Schumacher currently sits fourth in the Championship table with 44 points, two points behind Ferrari's Rubens Barrichello and seven behind second-placed David Coulthard, and although he is surprised to be so high up, he is not taking it lightly.
"I didn't expect to be in this position," admitted Schumacher. "But now I am I will try as hard as I can. That is all I can say. The season has lost some interest because we would have liked to have the Championship open to the end, but to try to finish second will be interesting for us."
However, despite high hopes for the rest of the season with the remaining races all on relatively high-speed circuits, the younger Schumacher, whose brother sealed the world title in Hungary, has mixed thoughts about this weekend.
"Spa is a power circuit," he said. "That is great and it always helps us, but we don't have a high track temperature and rain is forecast for Sunday. It could work out in our favour but if it rains it will be very difficult."
Published at 14:26:54 GMT
---