Thursday August 30th, 2001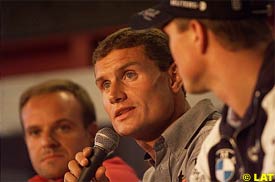 David Coulthard has reiterated his aim to finish second in the Drivers' Championship to help his McLaren team to a better garage position next season, but the Scot has admitted his main aim is to win races.
Coulthard, who has not scored a victory since the Austrian Grand Prix back in May, must fend off the challenge of Ferrari's Rubens Barrichello and Williams' Ralf Schumacher for the remaining four races of the season, starting this weekend in Belgium.
"I said my motivation is to win, so looking at the last four races I'll be trying to get in a position to win those," said Coulthard today in Belgium. "The benefit to the team in finishing second is that they're the second garage along.
"If I do the second best job this year then I will finish second - it doesn't change my motivation to win."
The Scot is five points ahead of Ferrari's Barrichello and seven ahead of the younger Schumacher in his Williams and Coulthard admits that he needs no new motivation to end his season on a high.
Published at 14:41:43 GMT
---