Thursday August 30th, 2001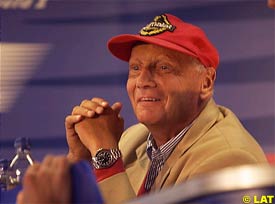 New Jaguar Racing team boss Niki Lauda has said that he will wait until the end of the season to decide on a replacement for team principal Bobby Rahal.
Rahal left the team by mutual consent last week and Lauda said he will remain in sole charge of team affairs until the end of the season, when he hopes to appoint someone to help him.
"I will remain team principal," said Lauda. "But when the season is over we're going to look to restructure the Jaguar Racing team and hopefully I will find a man who will assist me in running it. This is not decided yet. I haven't found that man yet, so basically I'm doing it now."
Lauda will try to get Jaguar to the top of the sport after two dismal seasons in which the Milton Keynes team have scored only nine points in total. However, the Austrian knows results must come soon.
"Patience is a virtue in life, of course, but it is not something we F1 people have too much of," he added. "Jaguar is one of the most emotive names in motorsport and I want to press on quickly with pushing the Jaguar name to the forefront of Formula One where it belongs."
The Austrian had previously been in charge of co-ordinating parent company Ford's various Formula One interests. Lauda agreed that he and Rahal had different managerial styles.
"I have my Austrian one if you want to say so, and I've done a lot of changes, certainly," he said. "Basically he (Rahal) had two businesses: one in the United States and one here.
"But in Formula One, our performance isn't really what it should be. It needs a lot of work, so decided his priority is in the United States."
Rahal, a three times CART champion, runs his own team in that North American series.
Published at 16:11:59 GMT
---