Friday August 31st, 2001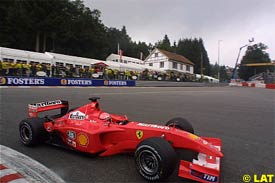 World Champion Michael Schumacher was quickest in Friday's practice for the Belgian Grand Prix at Spa as heavy rain hampered the second session and the German stayed easily on top.
Giancarlo Fisichella demonstrated his ability as he powered to the fourth best time in Friday's free practice as the second session was a wash-out. Most drivers were unable to improve on the times posting in the opening hour as rain fell, but Italian Fisichella surprisingly guided his struggling Benetton to the fourth best time of the day.
It took just 16 minutes for the threatening clouds to finally soak the Spa circuit in rain as the heavens opened and sent all the cars into their garages for the teams to rapidly change to wet set-ups.
Fisichella had already improved on his previously impressive time to end one and a half seconds behind fastest man Schumacher, and it was still a surprising performance from the team, which has lacked engine power throughout the season.
The rain prevented any further improvements in the times, so Schumacher remained top ahead of Jarno Trulli and Rubens Barrichello, with Hakkinen's McLaren behind Fisichella in fifth. Almost as soon as the rain had started, it made way for sunshine as the teams took the chance to test their cars' performance on the wet track.
Jean Alesi was the first man out and Jenson Button was the first man off when he lightly touched the barrier coming out of the bus stop chicane, and then later went off track at Les Combes.
Michael Schumacher made a mistake when he mistimed an overtaking manoeuvre on Pedro de la Rosa's Jaguar, giving the Spaniard a puncture and ripping off his own front wing in the process.
Kimi Raikkonen had a brief spin at Les Combes, and Jarno Trulli spun twice, first at Les Combes and then at the La Source hairpin, before Fernando Alonso's Minardi stopped just after the hairpin. Les Combes continued to provide a challenge and Williams driver Juan Pablo Montoya was the next casualty as he lost it on the wet kerbs and spun into the tyre barriers.
David Coulthard did not manage to get out in the session following his big accident in the morning.
Pos  Driver        Team                    Times                 
 1.  M.Schumacher  Ferrari            (B)  1:48.655  230.867 km/h
 2.  Trulli        Jordan Honda       (B)  1:49.404    +    0.749
 3.  Barrichello   Ferrari            (B)  1:49.456    +    0.801
 4.  Fisichella    Benetton Renault   (M)  1:50.192    +    1.537
 5.  Hakkinen      Mclaren Mercedes   (B)  1:50.239    +    1.584
 6.  Raikkonen     Sauber Petronas    (B)  1:50.495    +    1.840
 7.  R.Schumacher  Williams BMW       (M)  1:50.801    +    2.146
 8.  Irvine        Jaguar Cosworth    (M)  1:51.555    +    2.900
 9.  Alesi         Jordan Honda       (B)  1:51.631    +    2.976
10.  Button        Benetton Renault   (M)  1:51.673    +    3.018
11.  Panis         BAR Honda          (B)  1:52.071    +    3.416
12.  Frentzen      Prost Acer         (M)  1:52.073    +    3.418
13.  de la Rosa    Jaguar Cosworth    (M)  1:52.119    +    3.464
14.  Heidfeld      Sauber Petronas    (B)  1:52.436    +    3.781
15.  Villeneuve    BAR Honda          (B)  1:52.804    +    4.149
16.  Montoya       Williams BMW       (M)  1:52.829    +    4.174
17.  Verstappen    Arrows Asiatech    (B)  1:52.955    +    4.300
18.  Alonso        Minardi European   (M)  1:55.021    +    6.366
19.  Marques       Minardi European   (M)  1:55.099    +    6.444
20.  Bernoldi      Arrows Asiatech    (B)  1:55.491    +    6.836
21.  Burti         Prost Acer         (M)  2:11.037    + 0:22.382
22.  Coulthard     Mclaren Mercedes   (B)  12:37.913   +10:49.258

All Timing Unofficial

Published at 12:03:31 GMT
---