Friday August 31st, 2001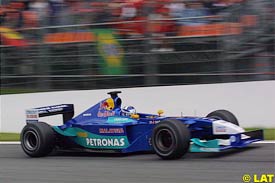 Finn rookie Kimi Raikkonen took full advantage of his previous knowledge of the Spa-Francorchamps circuit to set an impressive sixth quickest time in Friday's practice for the Belgian Grand Prix.
The Sauber driver, who has been forced to learn most of the circuits this season due to his lack of experience at the wheel of single-seater cars, had already competed at the historic circuit driving a Formula Renault, and that was clear to see on Friday as he mastered the undulating track to place himself in sixth place.
The young Finn admitted he enjoyed the experience of driving a Formula One around Spa, and was encouraged with the result.
"The last time I was here was in a Formula Renault, and it got a bit boring when it ran out of power," Raikkonen said. "In an F1 car this is a much more enjoyable circuit, certainly one of the best on the calendar.
"I didn't get to run both types of dry weather tyres before it rained, but the car felt good this morning on a dry track and again this afternoon in the wet, so I'm encouraged."
Teammate Nick Heidfeld finished the day down in 14th place after being unable to improve his initial time in the second session, when a heavy rain began to fall on the track. However, the German was confident with his Ferrari-powered C20.
"This morning I was reasonably happy with the way things were going, but later when I went out for my warm-up lap it began to rain so I came straight in," Heidfeld explained.
"I was able then to try the Bridgestone wets and the intermediates, and the car felt good on each type of tyre as the conditions changed every lap. The car is giving good feelings again, though there are a few small things we need to change to improve it further tomorrow."
Published at 13:04:51 GMT
---