Friday August 31st, 2001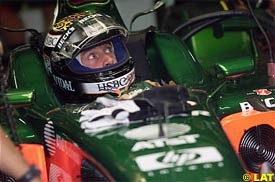 Eddie Irvine has called for the Belgian Grand Prix to be run with the safety car at the head of the field if the wet weather continues to fall at Spa-Francorchamps.
Irvine's calls came after Michael Schumacher crashed into his Jaguar teammate Pedro de la Rosa during Friday's free practice, and the Ulsterman warned that something more serious could happen in the race.
"In the wet you just cannot see anything," said Irvine. "Michael running into the back of Pedro's car is the perfect example of what is going to happen in the race.
"If it is wet, we need the pace car out. It's that simple. It's just too dangerous here. The track's fine, it's just that if there are cars running the water hangs in the air so long and that makes it very, very dangerous."
Irvine added that running the race in wet conditions would be "a hard decision for anyone to make", but British American Racing driver Jacques Villeneuve disagrees. Villeneuve is known as a confident driver and a keen lover of the Eau Rouge corner in any conditions, and he believes that the race should go on whatever the weather.
"Yeah, it would be safer with the pace car, but then we might as well just stay at home and not race because that would be a lot safer," said Villeneuve in response to Irvine's suggestions. "It's been like this forever - that's how racing is, it is dangerous. There is no reason for a pace car at the start either, because we don't get any speed until the first corner.
"The only area where it is more dangerous is if you drive slowly in the wet because then the guys that are driving fast and racing cannot judge the speed until it is too late. With or without a rolling start, the problem with the vision is into and out of Eau Rouge, not into the (first corner) hairpin, and the safety car will only help into the hairpin."
The 1998 Belgian Grand Prix was a wet race, marred by a pile-up involving 13 cars as they exited the first corner hairpin and then a crash in which Michael Schumacher, unsighted by the spray, slammed into the back of David Coulthard's car. With current conditions predicted to continue, all indications point to a wet race.
Published at 13:38:55 GMT
---