Friday August 31st, 2001
By Alan Baldwin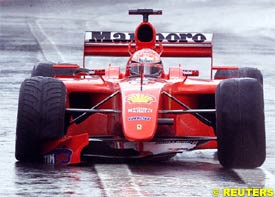 Michael Schumacher discovered once again on Friday that hidden dangers lurk in the spray at his favourite Formula One circuit.
Three years ago in Belgium, the Ferrari driver ploughed into David Coulthard's McLaren after coming up to lap him during the race while leading. Schumacher, unable to see through the churning wall of spray, had a wheel ripped off his Ferrari and later angrily accused the Scot of trying to kill him.
The four times World Champion revived those memories of 1998 on Friday by clipping the rear of Spaniard Pedro de la Rosa's Jaguar as they headed downhill into the daunting Eau Rouge curve. It looked eerily similar to the earlier collision but this time there were no angry words, just relief that there had been no major damage and a few wry comments from rivals.
"You can't teach an old dog new tricks, I guess," grinned Eddie Irvine, Schumacher's former teammate and De la Rosa's current one. Schumacher's front wing was shattered while De la Rosa limped home on three wheels and a rim.
"It was a worrying moment, luckily with no serious consequences," commented Ferrari boss Jean Todt.
Fickle Weather
Spa, nestling in the wooded Ardennes Hills of eastern Belgium, has notoriously fickle weather with rain sweeping in one moment and sunshine the next. Past races have frequently been wet and incident- packed, with the biggest opening lap pile-up in Formula One history also occurring in 1998 when half the grid was involved.
The forecast for Sunday is for more rain and Schumacher, who made his debut in Spa in 1991 and has won four times here, said Friday's conditions left him little chance of avoiding an accident.
"The situation was the usual one when you are running in spray: You have no chance to judge the distance nor to see the rear light," said the German, who has already sealed the 2001 title. "All you see is the spray. You have to hope that the driver in front behaves normally and accelerates down the straight.
"I was being careful, because I knew there was a risk of aquaplaning, so I was not going flat out. For whatever reason, I just had a feeling he might be going slowly, which is why at the last moment I moved over, even though I couldn't see anything.
"By then it was already too late. You can only see the car ahead when you are one metre behind, but in this case, the speed difference between us was too great."
De la Rosa, who had just left the pits, gave his version earlier in a scheduled news conference.
"I was looking in my mirrors and I could see there was a Ferrari coming, so I went completely to the right hand side," he said. "I could not disappear from there. I was allowing him the road to choose wherever he wanted but he preferred to hit me. I just think there is no-one to blame really.
"It was just a typical wet weather accident."
Published at 14:04:17 GMT
---