Friday August 31st, 2001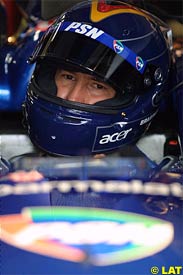 Heinz-Harald Frentzen admitted he is getting used to working with the Prost team as he gets ready to face his second Grand Prix with the French outfit following his exit from Jordan more than a month ago.
Frentzen, who made his debut with Prost at the Hungarian Grand Prix with a disappointing race where he was unable to finish, clocked a promising twelfth fastest time in today's practice for the Belgian Grand Prix and the German driver said he was pleased with his progress.
"I must say I feel satisfied, especially with the progress we made during the morning session," admitted Frentzen. "Fortunately for me everything went fine today, and I did not have any particular problem, except the changing conditions which all the teams had to endure.
"I get to know my car better and better, and for sure I am a lot happier with its balance than I was in Hungary. All in all, it was a very productive day and I feel happy with what we have achieved so far."
Frentzen's teammate Luciano Burti endured a torrid day to end in 21st place after an engine problem cut short his running in the first session. Due to the heavy rain in the afternoon, the Brazilian finished the session more than 20 seconds off the pace.
"I don't like to say that but this was a horrible day," Burti said. "Unfortunately during the morning session, I had an electrical problem in the engine. It caused a traction control failure, which made me spin. I managed to come back to the pits, but the engine was gone and the team immediately started to change it.
"I just had enough time to do a lap in order to check everything was working well, and it started to rain heavily… Therefore I was not able to work on dry set-ups at all. I chose to take it easy under the rain because the last thing I wanted was to crash the car considering the little time I had left on the track."
Published at 14:26:12 GMT
---